When searching for your next office printer/copier, you've likely found it difficult to definitively answer which model would be best for you.
The answer to this question is crucial because purchasing the wrong printer could lead to issues like increased service costs, which could then lead to a breakdown of the machine altogether.
When you're talking about multi-thousand-dollar printers, that could end up being a cost that cuts into your bottom line and takes away some of your much-needed working capital.
Xerox VersaLink C7020 Basics     
Here are some general statistics and information to help you get a feel for the machine's print speed, volume, resolution and cost:      
Print Speed: Up to 20 ppm   
Recommended Monthly Print Volume: Up to 5,500 pages   
Monthly Duty Cycle: Up to 87,000 pages   
Maximum Print Resolution: 1200 x 2400 dpi (dots per inch)   
Copy Resolution: 600 x 600 dpi 
First-Page-Out Time Printing: As fast as 9.4 seconds in colour, 7.2 seconds in black-and-white  
First-Page-Out-Time Copying: As fast as 9.0 seconds colour, 6.9 seconds black-and-white   
Cost: Starting at around $2,800 
Xerox VersaLink C7020 Features
The Xerox VersaLink C7020 contains a customizable, seven-inch tablet-like touchscreen that allows you to complete printing tasks simply and effectively.         
You can tailor the user interface to your business's goals by choosing from the numerous applications on Xerox's App Gallery. A few examples include:      
Amazon WorkDocs, which is a cloud storage and sharing service with administrative controls and feedback capabilities that improve user productivity. The price is per device, and is $100 for one year, $190 for two years and $270 for three years.        
Email Connect is a free application that lets you scan to your email address by choosing your email provider, putting in your email address and then pressing save.        
Connect for DocuSign, which is an application that can aid daily business interactions by eliminating approval bottlenecks and keeping essential agreements moving forward quickly and efficiently. The price of the app is $14 a month, $149 a year or $315 for three years, and there is a 30-day free trial available. You must have a DocuSign account to access the app.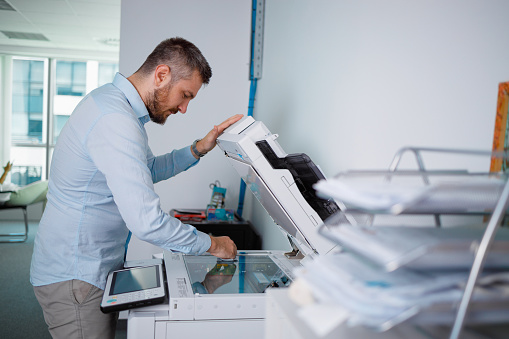 Xerox VersaLink C7020 Security
The VersaLink C7020 contains a four-point approach to security that'll help prevent, detect and protect against cyberattacks at all points of vulnerability.     
According to Xerox's website, these include:          
Network intrusion and data transmission     
Protection from unauthorized access     
Stringent data encryption      
Added security to individual documents      
Some of the security measures involve a comprehensive Firmware Verification test upon printer activation, and further security enhancements by Xerox's external partnerships with McAfee and Cisco, which includes McAfee's Whitelisting technology and Cisco's Identity Services Engine (ISE).    
You should consider your printing requirements and consult your print vendor or provider to see whether the optional upgrades and finishing options would be worth the investment.
Depending on the accessories you choose, the weight and dimensions of the printer will vary, but the VersaLink C7020 base model weighs approximately 148 pounds.    
2 Pros of the Xerox VersaLink C7020  
To get a better feel for the advantages of purchasing the VersaLink C7020, let's look at a couple of the main pros associated with the machine.     
Large Printing Capacity    
With a recommended average monthly print volume of 5,500 pages and a duty cycle of up to 87,000 pages per month, the VersaLink C7020 is built to handle a sizable printing capacity for small-to-medium-sized businesses.   
Permanent All-In-One Printing Solution      
In addition to its capability of printing at a high volume, the VersaLink C7020 is also built to act as a permanent, multifunction, printing solution for your workplace.     
Investing in an advanced multifunction printer is a long-term investment, which means you can expect the machine to last for a significant amount of time if you follow the recommended monthly print volume.      
If you plan to get copiers for your office in Phoenix, you can opt to buy copiers or lease copiers in Phoenix. We can give you the option to get the copier that you want.  You can contact our local copier leasing services department in your location.
If your Location is around Phoenix, you may call us at (602) 428-6500, and our personnel for copier leasing in Phoenix will assist you.   If you are also looking for copier repair services in Phoenix you may contact our copier repair personnel at the same number.